Microsoft has most recently announced that they are working on developing their latest version of Office Suite. The specialty of the new Office Suite is that Microsoft has designed it exceptionally for Apple's iPad. It seems that Microsoft's new offering is going to challenge Apple's own creative apps. The Daily has mentioned that according to their collected informations about the offering of Microsoft creative and essential apps like Word, Excel and PowerPoint will be available in just $ 10 each.
If we search in Apple's App Store we will find a number of apps from Microsoft like Bing, MSN Onit and MSN OnPoint but all of sudden the office Suite has become the most demanding app in their App Store. The whole tech world is aware of how efficient and professional Microsoft is about their works, how intensely Microsoft has developed Windows 8 and Windows 8 based tablets. On the other side Apple's iPad is at the pinnacle of success presently. A large section of people are using iPads and a larger section of people are using Office suite on their devices. So it is very clear that the association of Apple's iPad and Microsoft's Office Suite will be great and productive equally.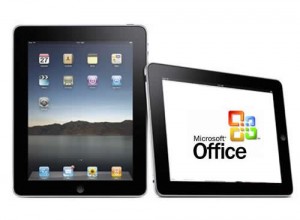 Apple launched their iPad in January 2010. Right at that time Mike Tedesco, who is the senior product manager of Microsoft, mentioned that they would soon design Office Suite for iPad devices. But due to some unknown reason some times later, Microsoft's executive Stephen Elop rejected the possibility.
It can be said very much logically that if the deal could be possible it would bring huge amount of profit for both the companies. Microsoft would have made lots of money and a massive reliability from enterprise users would be in iPad's part. But the deal could not be made and Apple designed their iPad with iWorks apps but the whole tech world is still looking for the association of office Suite and iPad.