In the last Nokia World expo in England Microsoft has revealed their plan that Windows phones will be found working with the Xbox 360 gaming machine. They have also assured people that they will not have to wait long for the new offering. But the company did not revealed much information about the announced future plan.
Earlier this month the features of WP7 Xbox Companion App appeared on the internet. But as those informations were not detailed we did not get a clear conception about the functionality of the mentioned App. Most recently in the Microsoft's Windows Phone blog the company has published detailed information about the functionality of the app in turning the Windows Phone into a TV – remote type controller of the Xbox 360.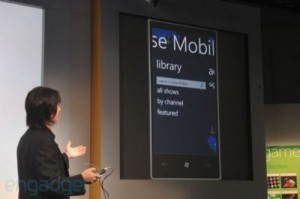 Ben Rudolph, who is the blogger of Microsoft has described in the blog the functionality of the app in details. He has mentioned that the app will allow the users to search anything with the Bing and then drive it to TV through the Xbox 360. For instance if someone is searching for a specific film to watch then he or she will just have to search the film with Bing and then watch the film on their own TV through the Xbox 360. He has also mentioned the app will let the users to use their Windows Phones much like remote controls.
But the most exciting thing is the app will enable the Windows Phones to work together with the Xbox 360 to play games. According to the informations received the Windows phones will be able to control the Xbox version of "Kinectimals" game. So it will be a lot of fun to play on the Xbox 360 with the virtual animals like lions, bears etc that you trains in your Windows Phone version of the game.