After the announcement of Nokia-Microsoft partnership, there has been a growing curiosity among customers regarding what the first phone resulting from the new joint venture would look like. Some of the first pictures of the Nokia phone running on Microsoft Windows 7 have been leaked on the internet. The possible name of the device is being cited as Sea Ray. From the first look, the phone looks state of the art and inclusive of a myriad features. However, users are curious about the Microsoft Windows 7 phone operating system. As of now, the operating system does not enjoy a big patronage. Companies such as Samsung and Nokia have released phones working on this operating system and have met with lukewarm response in contrast to the response that these mobile phone manufacturers have met by using Android on their phones. As of now, the operating system is the third most preferred after android and iOS. The pictures that have been release of the Sea Ray are not very clear, though. However, a few things that will be the most probable are that the phone will be an upper mid range phone and is supposed to be the leader in its Windows 7 phones.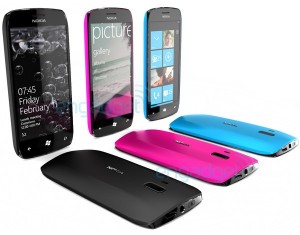 In keeping with the new nomenclature adopted by Nokia, the phone will fall in the 800 range. Phones will be named numerically between 100 and 900. The ascending order of the numbers also denotes the ascending order of cost and sophistication.
According to the leaked pictures, the phone will measure 11.2×6.8×1.23cm. The weight is 114gms. The other features of the phone are a LCD display measuring 3.7 inches with a screen resolution of 480×800. The phone is also seen to have a 5 mega pixel camera. Video shooting is possible at 30fps and 720p. Users can access 8GB memory space and the RAM is of 512 MB.
The phone will probably be out on the shelves on the 27th November, since the image shows a hint of the date. Apart from the leaked image, nothing much has come to light about the phone. It is being expected that the phone will perform better that the ones working on Microsoft Windows 7 phone operating system released by other competitor companies. At the moment, the biggest competitor that Nokia has to face is HTC, which has decided on the first of September to release a Windows 7.5 based phone. However, it is being forecasted that Nokia and Microsoft will want to release the phone in places that already have a high following of the company's phone. United States will see a release only by 2012.