Last day RIM has announced for a new kind of social song sharing service, which they named as BBM music– in short which will allow its user to build up and share a community based music library with the help of their BlackBerry Messenger contacts.
With the help of this music service your friend will be able to share a 50 song loaded profile with their BBM contacts. Moreover, this new service will also provide you the option like swap out up to 25 songs per month- so you have to choose carefully before setting up that NDubz, because you can not change that within three weeks.
If you collect more people in your BBM friends list then this 50 songs profile will be too much helpful to find out the right friend for you.
Play listen Feature:
With the help of this new kind of music application you will also be able to build playlists by using the song from your friends profile and by sending music between the contact of this instant messaging service – more widely you can save some tracks here for listening offline.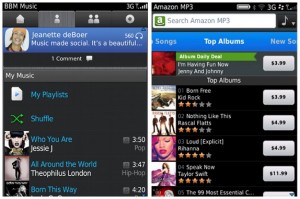 In order to finalize a deal with Sony Music, Warner Music and EMI and Universal, RIM has tried to choose some cloud base similar music service like Amazon, Apple and Google.
But the matter of fact is that none of those service have yet crossed the barrier of Atlantic Ocean, so in this matter RIM has occupied the first place.
Though, the official releasing date of BBM Music in UK have not yet been finalized but with the sequence to the fact now a beta trial of this service has started in US, UK and Canada.