Here is no doubt that Sony has been working hard on a few tablets this year, but now the information, that are coming out from the different sources, are stating that their new tablet S1, according with Engadget reports which official name is Sony Tablet S, will appear in the market within the first two weeks of this coming September.
The Sony Tablet S has packed up with couple of mind blowing accessories such as 3MP front-facing camera, Nvidia's Tegra 2 SoC processor, 5 megapixel shooter rear camera, Wi-Fi 802.11 a/b/g/n, 3G and 4G connectivity,   IR port for controlling AV along with Sony Bravia Televisions and so on.
Not only that, this device has also packed up with 9.4-inch display which screen resolution is 1280 x 768. But the main interesting features of this tablet is its Android 3.1 operating system, which can even be upgraded up to Ice Cream Sandwich, though this OS has not arrived yet and expected to come in coming October.
Whatever it is but this device has few similarity with Apple iPad and many rumors have stated that possibly this tablet will come out in the market at a low price range – it is because to compete with Apple iPad offering.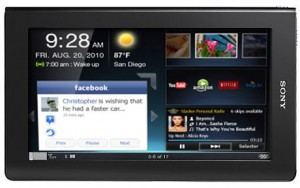 Though, another rumor has stated that the starting price of Sony Tablet S may be around $600.
But, it is true that in the Apple iPad and its accessories have been dominating the entire world of tablet since a long period, though few new brands are now starting to make their tablet – like HP, Samsung and many more. While it is the age of Android tablets, in that initial time HP tabs are coming out with WebOS based touch pad, which screen resolution is quite similar like Apple iPad and price is also too much low compared with each other.