This is good news for all those who likes playing the game "The SIMS" and who are into Facebook, as well.   The game and the social site are going to be incorporated in one.
"The Sims Social" allows a player to do both the classic life simulation game and has social experience, it lets the players interact in ways they have not done before in "The Sims" franchise.
Vice President of Marketing at EA Play, john Buchanan says that only the elements of the game can be shared with friends, but now players could play with their real friends.
The community of "The SIMS" allows a player's character to be married.  Now the character could do more than just be married.  There are millions of people on Facebook, and it would be easy to create a community in the new game "SIMS Socials".
The creators of the Playfish Games to create an authentic feel in the social game, in the past games in "SIMS", players have created their own character; give their home, and personality.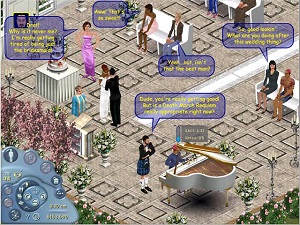 The new game will work just like the past, but the gaming experience will be different once that the character starts exploring the rest of the world.  The friend that have in the game can make a big difference in the life of your character as they could be involve in the personality development of the character.
With the help of Facebook, everyone could know, what is going on with the character that they created.  It may be falling-love, breaking-up or anything that normally occurs in real life.
Relationship building is one of the main elements that make the new game so memorable.  The character rise in levels, once the character interacts with other characters.  I could involve falling in-love, breaking-up and other things that could affect the character.
With the help of Facebook, the character that you are controlling and your friends character could work together towards a common goal.  For instance, your character wants a perfect home.  You could seek help from the characters of your friends.
If you have an ambition of becoming an artist, in real life then this would be your chance to follow that dream.  Your character could gain the skill thus raising their levels.
In real life, not all things go on our way, so you could expect the same thing happening in the world of your character.  You could find something going on with your character.  Sometimes your character is going to have a sour relationship.