There was an accidental error by Verizon on the 26th morning. The company uploaded a video containing "Explore Features" of BlackBerry Bold 9930, which is still being kept under wraps. The video that Verizon was supposed to upload was a movie of BlackBerry model 9650. Rather, enthusiastic people got to see a glimpse of the impending BlackBerry 9930. The video was quickly pulled off air but they proved to be late because Engaged pulled a bit out of the video before it was pulled off.
The contents of this latest accident, when coupled with the announcement that the Research in Motion is all set to bring out the latest phone, is conclusive of the fact that BlackBerry enthusiasts will soon be treated to a newer and in all probability, a better version of the smart phone. In the recent past, BlackBerry phones and gadgets have met with lackluster acceptance and some of them have proved downright disappointing. The company has also lost a substantial share of the smart phone market to Apple and Android. With the imminent release of BlackBerry Bold, the company will hope to get back a strong hold on the market.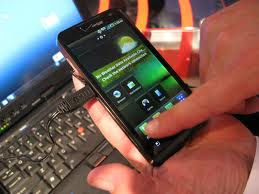 The features of the new BlackBerry smart phone were made public at BlackBerry World, in the initial months of this year. BlackBerry Bold 9930 is equipped with a 1.2GHz processor. The touch screen is 2.8 inches big. The keyboard is bigger than before. In addition, the phone sports a sleek and stylish profile and is slimmer than its predecessors. BlackBerry Bold is stated to be an enhancement over BlackBerry 7 OS.
In comparison to BlackBerry 6, the new version is better to look at although there is not a complete change. The changes are subtle but prominent and the result is admirable. As far as appearances are concerned, the new BlackBerry has enough potential to keep users hooked on to it. As for the features and efficiency of performance, that is something that the release will tell.
Earlier this day, there was a news leak regarding Blackberry releasing its new phone tonight. In the light of this news, it can rather be speculated whether the goof-up by Verizon was not actually a publicity gimmick before release of the product. The patrons of BlackBerry are definitely going to be sitting in front of their computers anticipating the impending release. Whether BlackBerry Bold is bold enough to support the sinking RIM is something that time will reveal.