Yesterday shopping giant Amazon has released brand new version of their Kindle fire software that is version 6.2.1. Their main aim behind this beautiful updates is to improve its UI performance that they noticed earlier on the basic of their many customer complains. Any user of Kindle Fire can easily get it from internet, because Amazon already started to distribute this update all over the air.
Amazon also claimed that their this brand new updates is also associated with the following goodness, like:
More enhanced fluidity and performance, because in this version the user interface felt choppy, in specific by helping of items like coverflow or "carousel" feature,
Advanced touch navigation support,
Advanced display option like which option you want to show on your display on the carousel and which not. Before that many people were concerned about their privacy, which was happened because of carousel, which usually displayed those items that you might not want others to see.
Associated with the ability of password locking system on Wi-Fi access, it is a very necessary update, with the help of this you can keep your children away from reading books and not watching YouTube.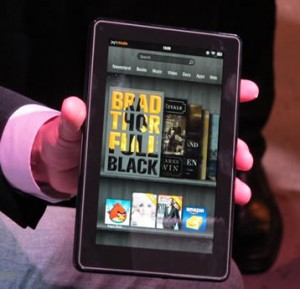 Though at this present market many brands have launched their own tablets pricing between $200 to $500. But till yet Kindle Fire has been mostly sold since last November 14, it is the date of its first released.   Here is not over Amazon has also increased the production of this beautiful device to meet customer requirement, which was the hottest tablet at Target and best buy last month. Though still some user of it is still facing problem due to its OTA update, for those Amazon suggested for installing that update directly from their main website.