Cell phone manufacturing company Motorola has recently announced their upcoming product Xoom 2. As the company said their this new tablet will come out in the market being packed with two new edition – Xoom 2 and Xoom 2 Media Edition.
Both of the tablets are coming by associating with next generation Android operating system or Android 3.2 Honeycomb. In an announcement the authority has claimed that these two model will be 10 percent lighter and 33 percent thinner than the original one.
If we take a brief look at the specification section then we can find that both of the tablets are coming being associated with some mind blowing features such as 5 megapixel back camera and 1.3 megapixel front facing camera, an undefined dual-core 1.2GHz processor, splashguard coating, Gorilla Glass display.
Moreover the Xoom 2 includes a 10.1-inch widescreen HD display. It is quiet brighter and more vibrant than the original one. Both devices have powered by 1GB RAM and 16 GB internal storage. Motorola claimed that it's squared off edges will make this table more handy and smooth at the time of holding.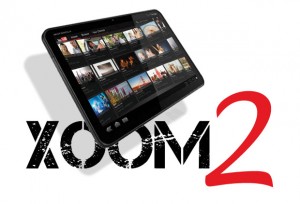 In specific like other Lenovo's ThinkPad Tablet, this device is also associating with an optional stylus. That can support note-taking and drawing. Motorola claimed its battery will support 10 hours of video playback.
Though, Xoom 2 Media Edition includes similar specification like the earlier one, but the thing which makes difference between this two is its 8.2-inch display. It is associating with a 178 degree viewing angle. Its graphics can be defined as 20 percent better than the original Xoom.
At present these are announced only for UK and Ireland. Even, the prices of these are still unknown. Various rumors are starting to say that it will appear globally somehow later on this month.