The shares of Research in Motion have seen a downward trend in the recent past. Although the new releases from the company were expected to mark an increase in the share price and overall performance of the company, they have not reached expected targets and despite performing better than their predecessors, the sales have remained lower in comparison to gadgets from other companies. Over the last month, RIM saw a brief phase of upsurge in share prices by almost 50% due to news about monetization of patents and takeovers. However, the lack luster performance of the devices has caused a fall in the share prices. The price target for BlackBerry stocks was maintained at $25. The new operating system from RIM, BlackBerry OS 7 has brought positive recognition for the company but the devices have been dubbed "underperformers". The new devices are low cost and although the sale figures are higher for the new set when compared to the previous ones, the overall profits of the company have not shown a significant increase.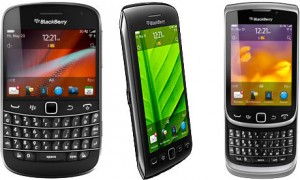 The other reason for lackluster sales is low cost releases from Apple and Android. In the last month, a number of Android tablets and phones at $199 have been released by companies such as MSI and Lenovo. According to market survey reports, the low and mid range phones and tablets from Android and Apple have "pressurized" RIM devices.
The share prices of RIM are down by 49% so far in this year. However, in the past three years, the total downfall in the share price of the company has been 80%. The reduction on Friday was 5.5%. The share value stands at $29.60. Unfortunately for the company, the slash in prices of the devices has come just a week before the release of quarterly results. Forecast updates are also expected to come in the following week.
Research in Motion has been struggling with sales and development of gadgets for quite some time now and has come under heavy criticism from all quarters. Canadian Merchant Bank suggested a sell-off of the company. The bank is also one of the share holders of the company. The bank has also suggested RIM to look at other options to increase profitability for shareholders. The Chairman and CEO of Jaguar Financial Corporation have reiterated the idea of the Canadian bank by saying that RIM requires a "transformational change" and the returns for shareholders need to be optimized. The thought has been echoed by several other shareholders.